I found myself in a bit of a dilemma recently. I've had cravings for those large fried Spring Rolls. I never eat them normally but pregnancy is changing that!
The problem with Spring Rolls however, is they are full of gluten. I am not friends with gluten, or rather, it is not friends with my body. It likes to make me feel irritable, sore in my ligaments and gives me piercing headaches. So my dilemma became the occasional torture session while eating Spring Rolls.
That was no fun, so I went in search of gluten free spring rolls I could make at home.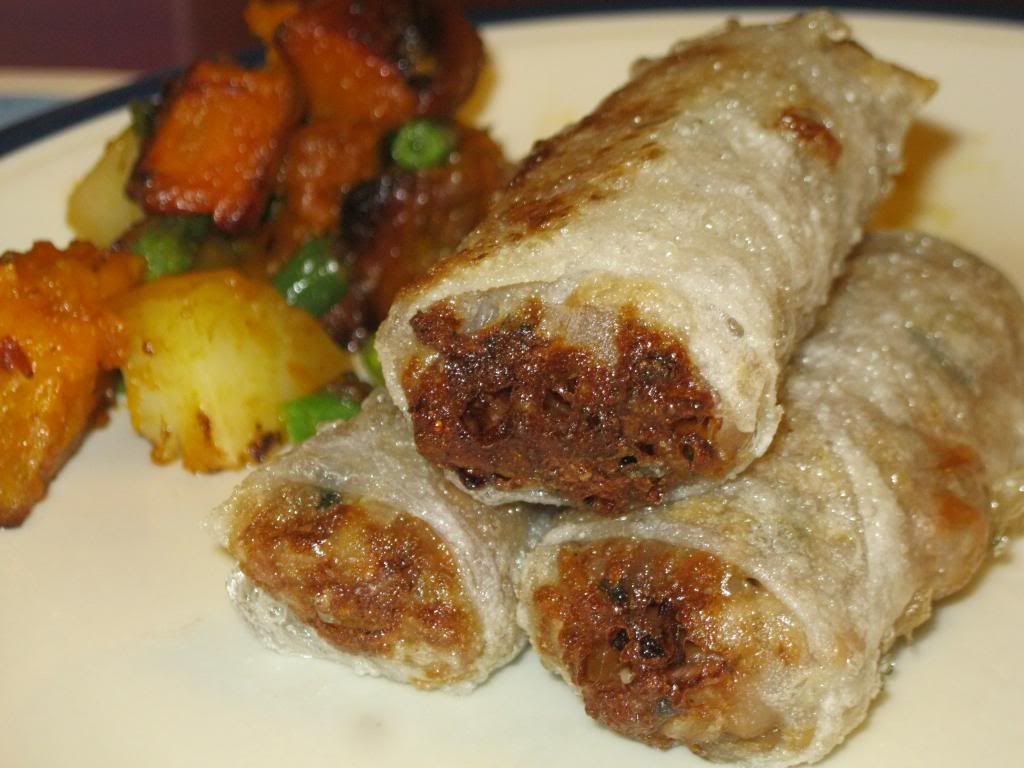 Served with a side of "bubble and squeak"
Oh yes, these were
really
delicious. Made with rice paper wrappers I avoided the gluten in regular pastry. These don't have the same texture as normal Spring Rolls, but the filling still gave me that tang I was craving.
This recipe doesn't use meat at all and still tasted great!
Onto the recipe.
1/2 head sugarloaf cabbage - shredded
2 carrots grated
1 onion finely diced
1 bunch fresh coriander chopped
1 clove garlic crushed
1 inch piece fresh ginger, finely grated
approx 1 cup vermecilli (rice noodles)
pinch ground white pepper
pinch cayenne pepper
2 tabs gluten free soy sauce
2 teas rice wine (check to make sure it's gluten free)
oil for frying
~ substitute apple cider vinegar if no rice wine~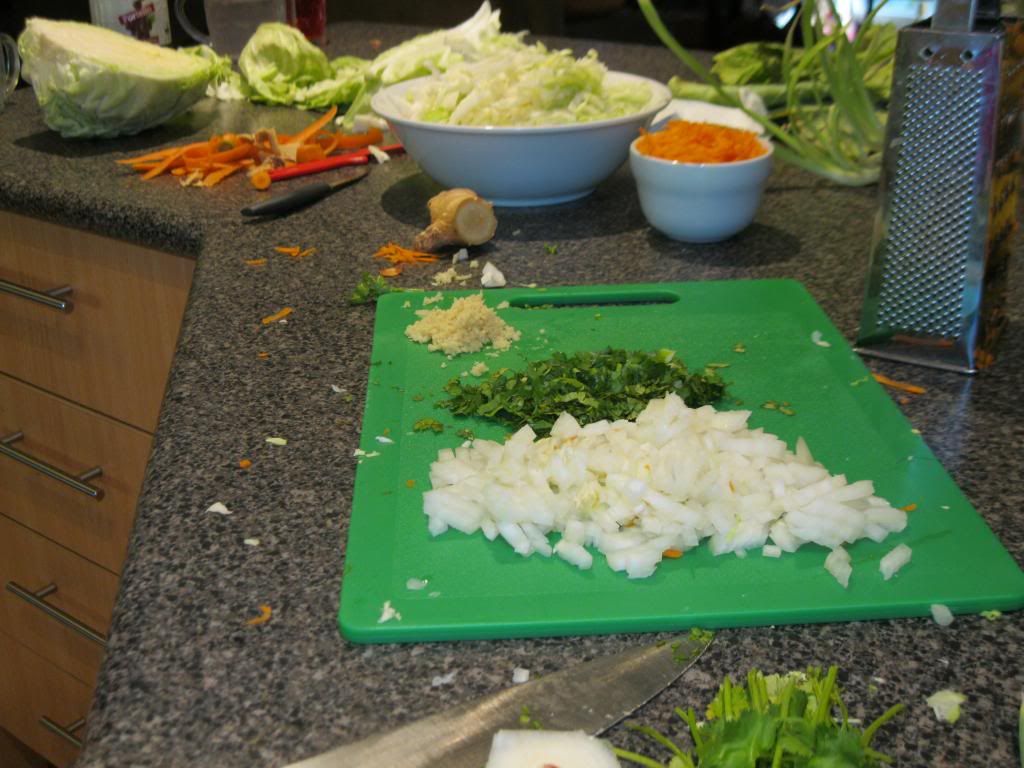 Prep fresh ingredients
I like to cook my filling a day ahead, because it can take about 4 hours before frying those lovely morsels. Most of that is fridge time, because you need the wrappers to dry after rolling. They are very tacky otherwise.
I made my filling in a wok. Turn up the hotplate to high and drizzle wok with a little oil. Fry onion (stirring) until transparent and slightly caramelised, but not burnt. Keep adding oil if it starts sticking to the base. Add garlic and ginger and stir.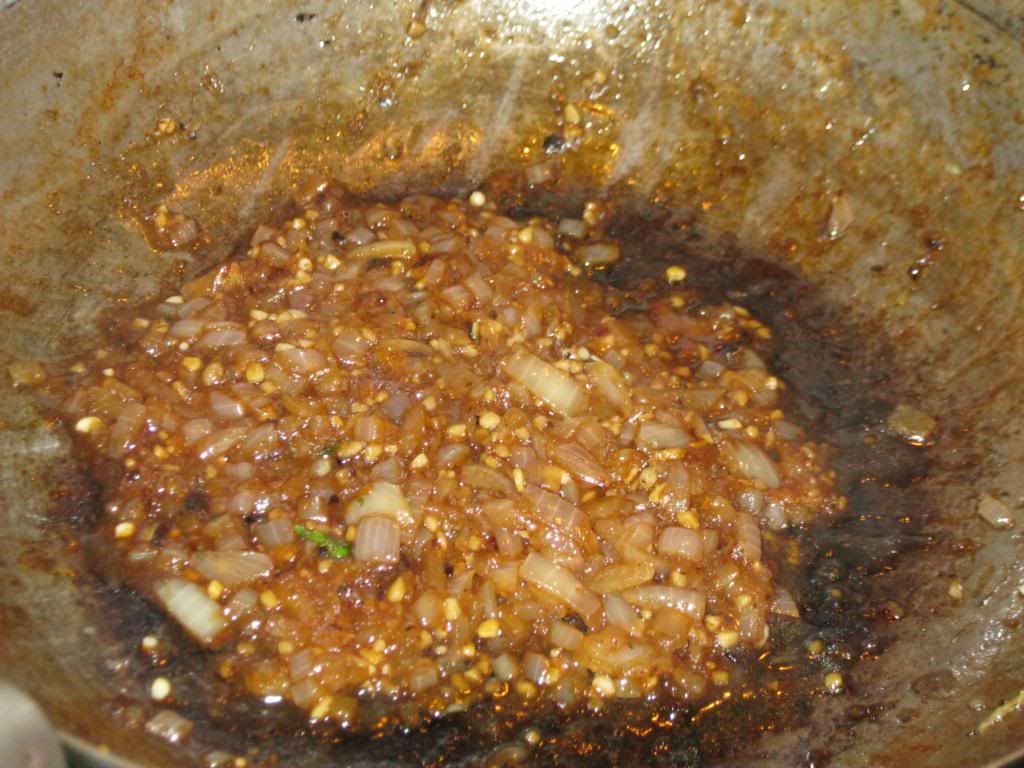 Caramelised onion, garlic and ginger
Next add your shredded cabbage, carrots, and stir with tongs until cooked a little. Add your gluten free soy sauce, rice wine (or apple cider vinegar) and both types of pepper. When nearly ready, add chopped coriander and stir through.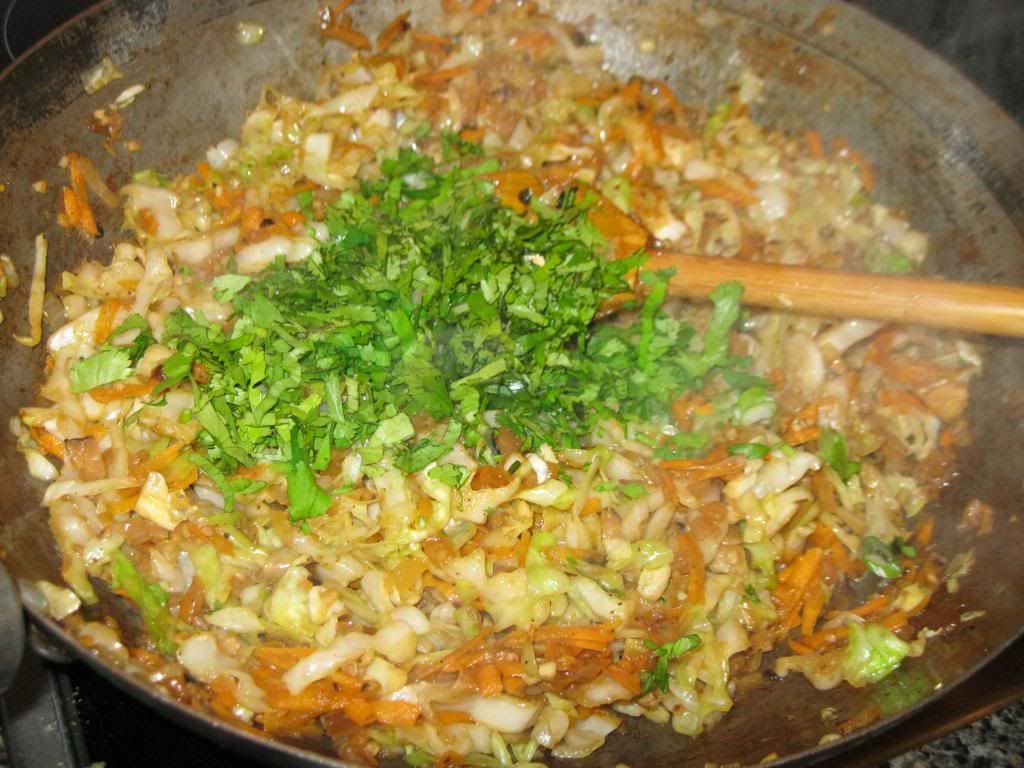 Adding fresh coriander
The last stage is to add your vermecilli (rice noodles) and you need to prepare them at least 10 minutes before hand. I cut my vegetables then put the kettle on to boil, so I could add the water to the vermecilli in a bowl. Strain water out when you're ready to use. Add the vermecilli to your cabbage and it should look like this...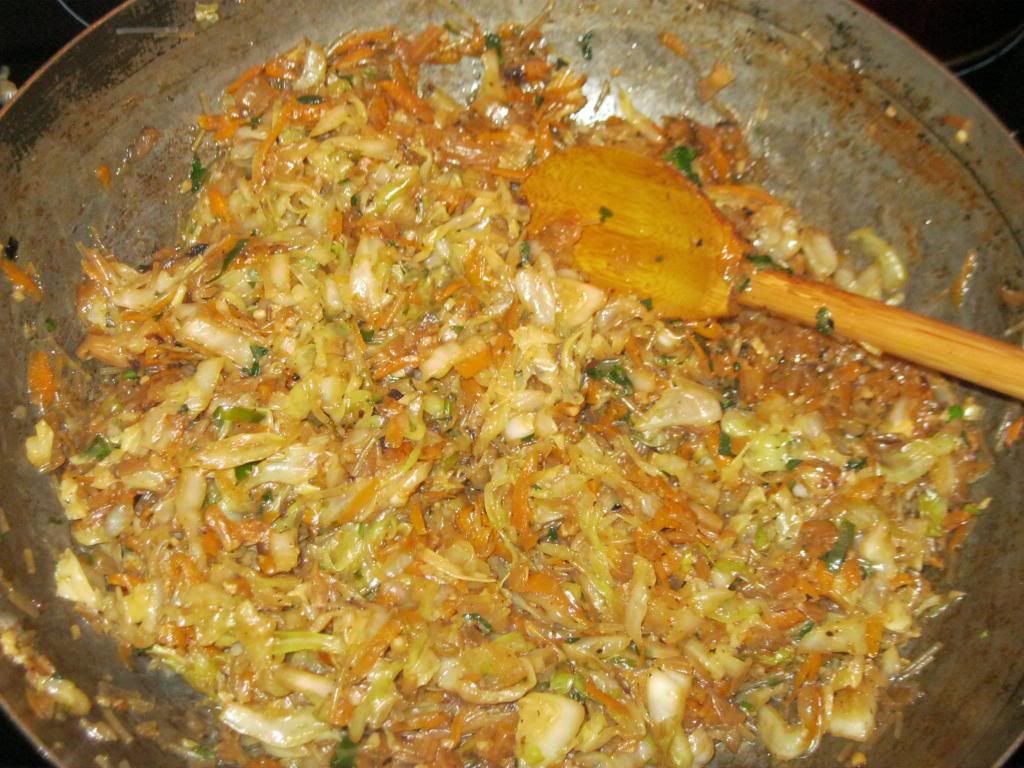 Finished filling
Let cool then refrigerate for rolling in rice paper wrappers the next day. I found my rice papers in the local Woolworths, but I'm sure other supermarkets or Asian grocery stores would stock them also. I got about 20 wrappers in the packet, and it turned out to be plenty for three people, including leftovers for lunch the next day.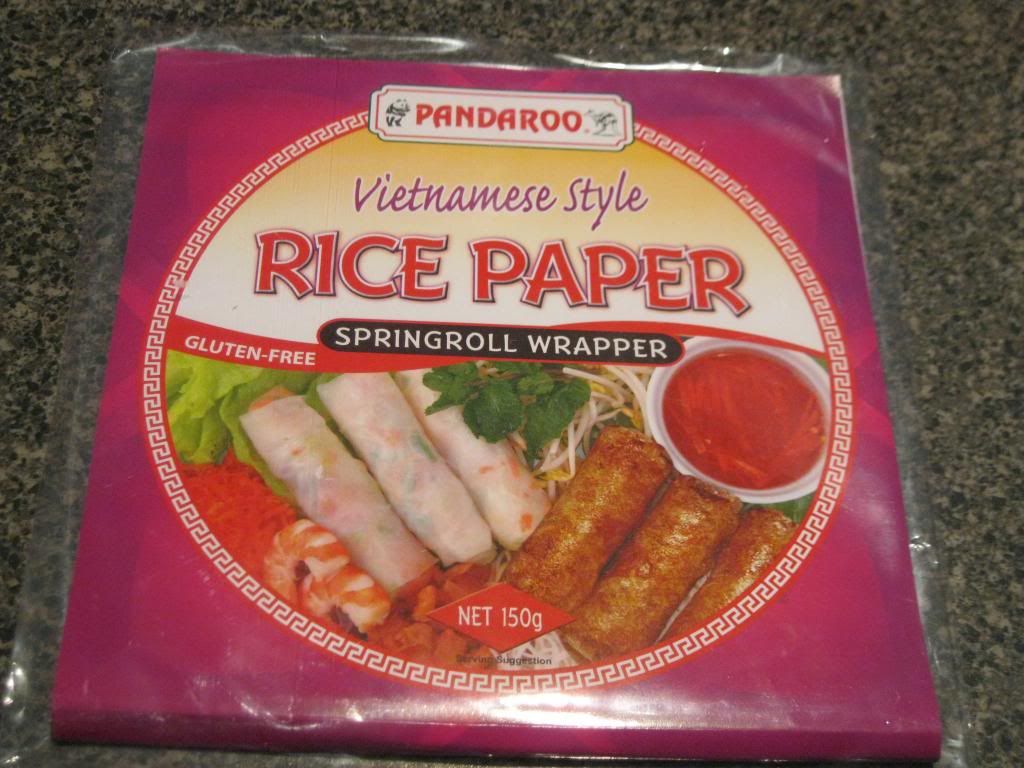 Products made with rice are generally gluten free
Time for the fun part! Get a bowl of warm to hot water (I used a big metal mixing bowl) and dunk a single wrapper into the water. Depending how hot it is, depends how long you leave it in the water. I found a quick dip on both sides is all I needed at first, but as the water cooled, it needed slightly longer. You then stretch the wrapper on a plate gently and fill with about a tablespoon of filling.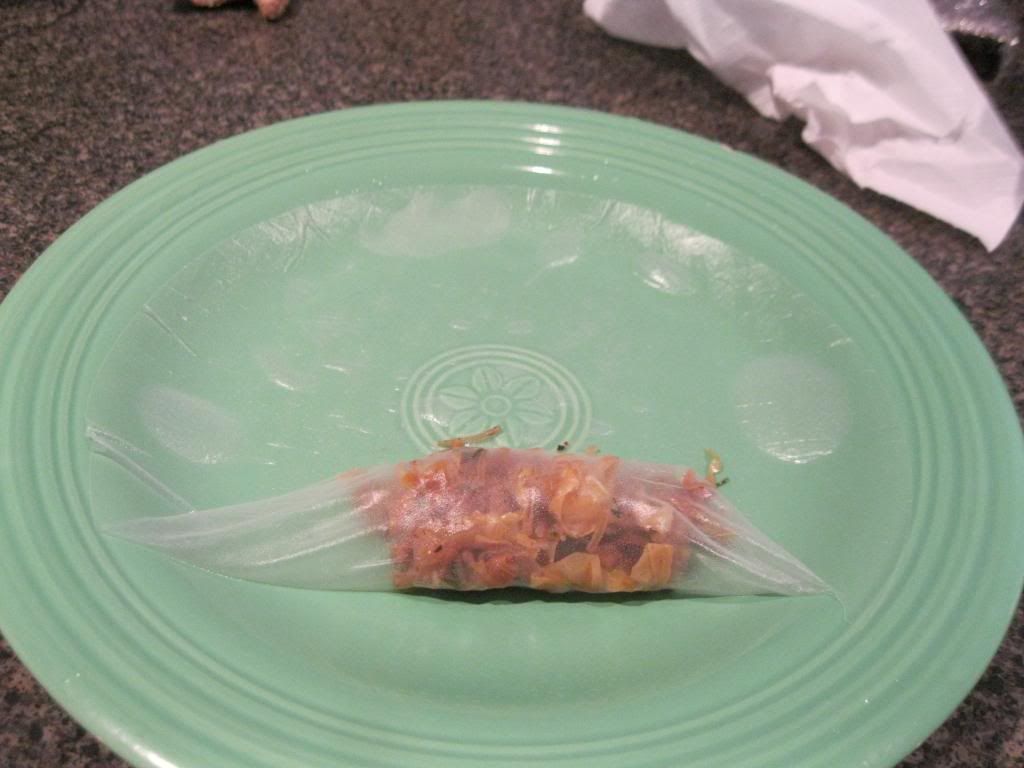 Fold up the end...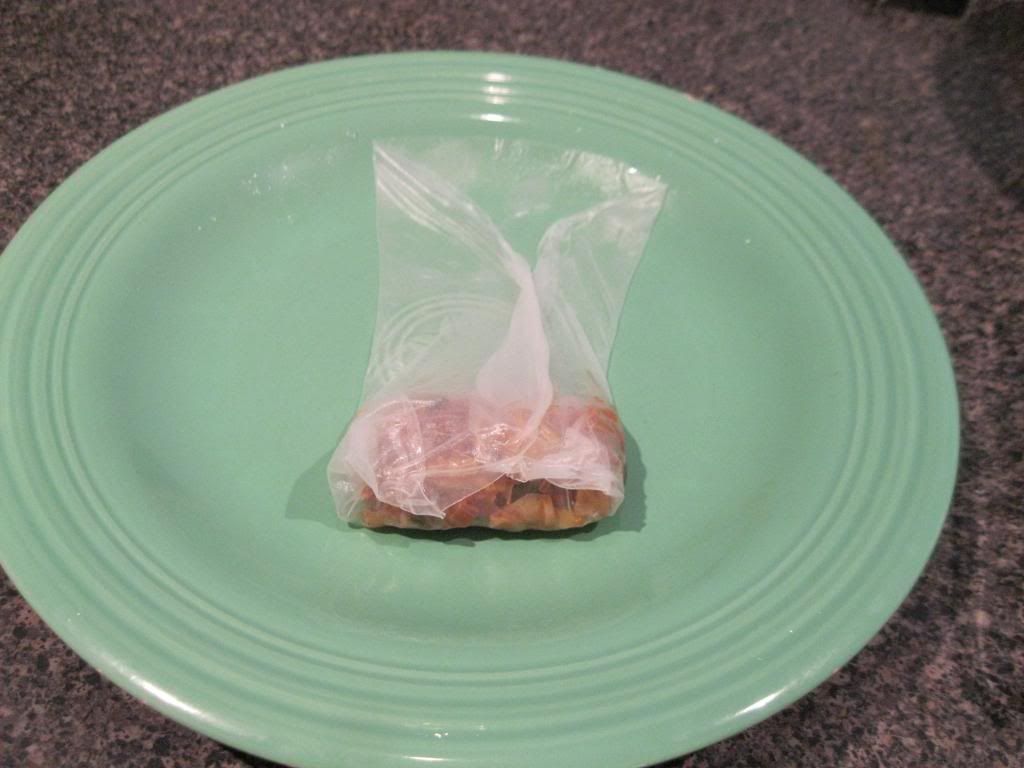 Then fold in both long sides of the wrapper...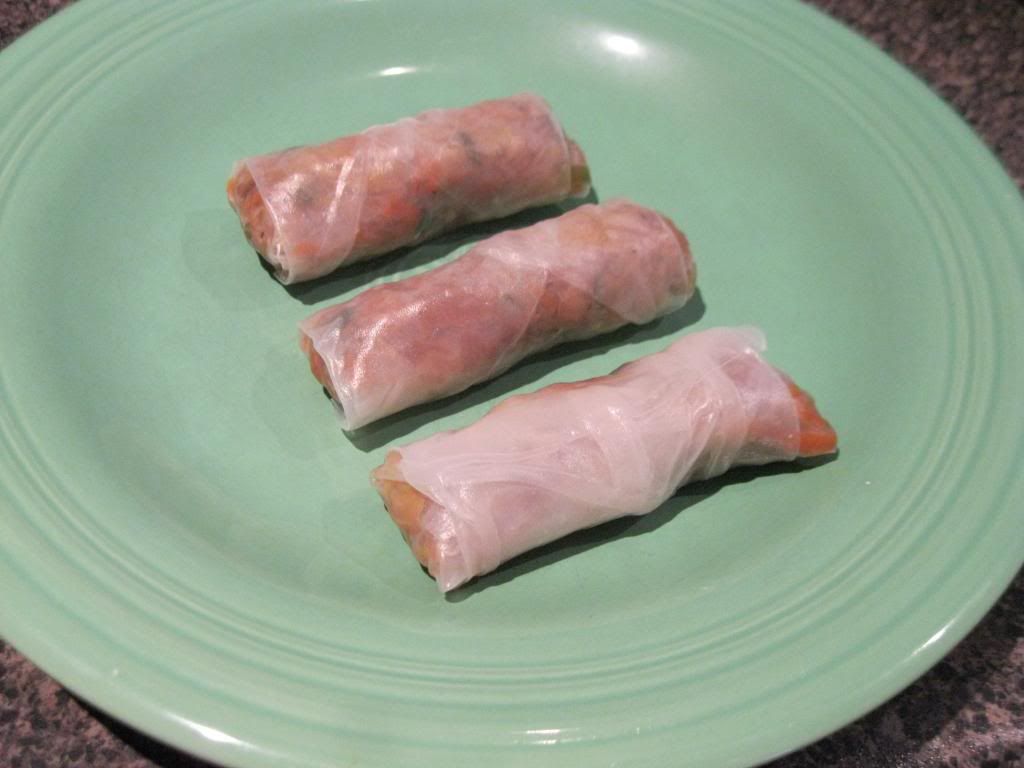 Roll tightly until you have neat rolls and place on a clean plate. I had a larger plate filled, but these were the last three. You don't want your rolls touching one another because they're now going to be put in the fridge for a few hours (uncovered) to dry out a little.
When it comes to frying, use a frying pan and turn your heat up until oil is ready. I used olive oil. You then turn your heat down to medium, as rice wrappers are quick to cook. Use tongs to place rolls in the hot oil. Only fry about three at a time, because they'll wobble around at first and threaten to touch one another. Once they do touch, you're going to end up with a split wrapper when you try to turn them, and cabbage will go through your oil.
My first batch did this, but when I reduced the numbers down to three, it went amazingly well. And that's it! Best eaten fresh but still lovely the next day.